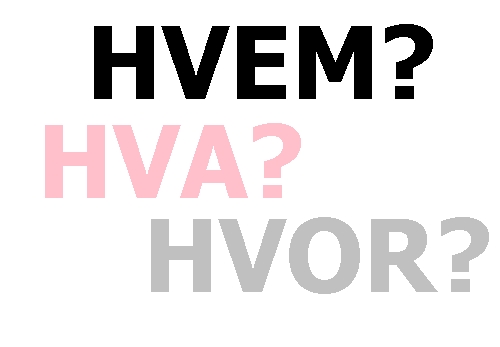 In this lesson we'll continue with Norwegian grammar, which is essential for you to speak correctly. Let's start! – La oss begynne!
SPØRREORD – INTERROGATIVES

Hva – what
Hva heter du? – What is your name?
Hva gjør du? – What do you do?
Hvor – where
Hvor bor du – Where do you live?
Hvor er du fra? – Where are you from?
Hvem – what
Hvem er det – What is it?
Hvorfor – why
Hvorfor snakker du norsk? – Why do you speak Norwegian?
Hvordan – how
Hvordan går det? – How are you?
Hvordan går det med deg? – How are you doing?
Hvor ofte? – how often
Hvor ofte går du på kino? – How often do you go to the cinema?
Hvor ofte snakker du norsk? – How often do you speak Norwegian?
Take a quiz and check how you've understood the rules.
Pick the correct option from interrogative words list: hva /  hvor/ hvem/ hvorfor / hvordan / hvor ofte.

___________________________________________________________________________
Free Norwegian lessons are prepared according to interactive courses Norwegian24.no
If you want to learn the full course, check out Norwegian24.no. Different tasks will give you possibility to improve all the relevant skills: after completing the Norwegian course, you will be able to speak more freely, to avoid spelling mistakes and to understand your companion clearly. Each lesson consists of 6 parts, which has up to 25 different exercises.