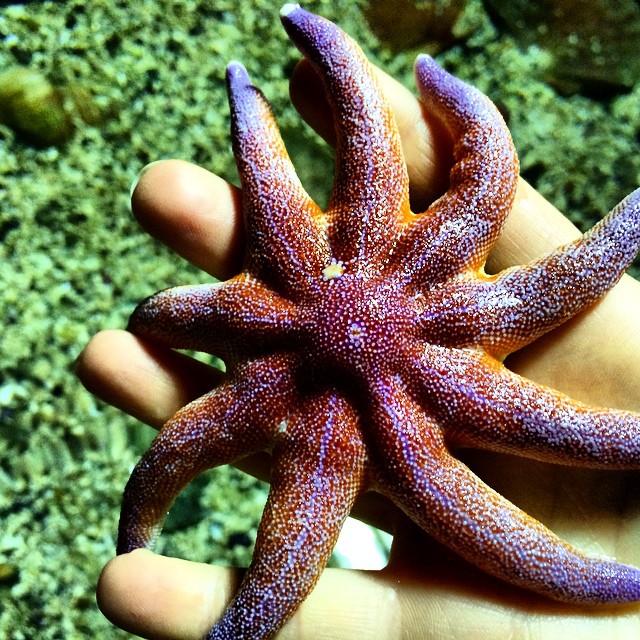 In one of the most beautiful cities of Norway, known as Ålesund, you will find the perfect creation of human and nature. The aquarium of Atlantic Ocean called 'Atlanterhavsparken' is a great example of how to combine the wild environment and architectural creation. One of the Europe's biggest aquariums is surrounded by fiords situated between Atlantic ocean and overland. The dwellings seem to merge with mountains and such a landscape stretches until reaches downy clouds.
The aquarium of Atlantic Ocean covers the area of 4 000 m² intended for public exhibitions as well as 6 000 m² revealing the beauty of shore landscapes. Overall, it is 10 000 m² reflecting a strong link between the human and nature! The aquarium and park extend along the shore of Tueneset, approximately 3km to the West from Ålesund. On the shore you can do many things, such as fishing, swimming or even unpuzzle the deep-sea secrets.  Certainly, don't forget to stop for a while and admire the most stunning creation of all which appears to be magnificent aquarium. Even the Royal family attended its opening ceremony!
The history of aquarium started back in 1951. At that time the first aquarium in Ålesund was established. In 1967 it was moved to the Fiskernes Hus fishermen's house, located in the city centre.  After a while, the plans of constructional works toward building a bigger aquarium were made. And so, in 1998 an amusing opening ceremony of the new aquarium was held.  The Royal family and residents of the attractions on offer celebrated the up-building of this Norwegian pearl. At the same time, the town was mentioning the 125th anniversary of its establishment. Since then, the Ålesund aquarium has welcomed loads of visitors from both Norway and the rest of the world.
The fascinating residents as well as the attractions on offer available at the aquarium of Ålesund make wonder not only children but also adults. Here you can see plenty of aquatic animals, ranging from devilfish, octopus and lobsters. Some of them, after getting to see hands, disappear quickly, while others, on contrary, swim along palms of the visitors. Every day the shows are organized during which the divers feed big and small fishes. The fishes that are not predatory are even allowed to be fed by visitors themselves. The penguins are not forgotten, too.  You can see them having lunch every day in the open-air swimming pool.
The aquarium serves educational purpose as well. On the stands you can find the features of aquatic animals explained in English and Norwegian languages. So there you have a chance not only to have fun but also gain valuable knowledge about the aquatic kingdom. It seems to be an interesting way of spending family time together, isn't?