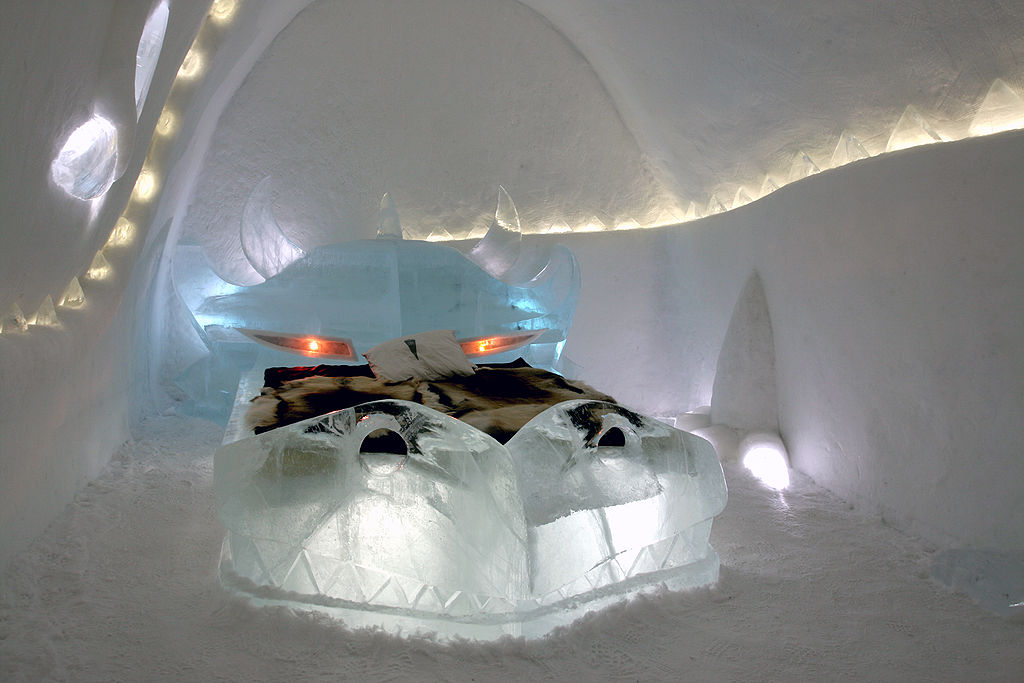 Just imagine snow and ice all around, your nose being tickled by frost and yourself sleeping tight. Surprisingly, this is not a scene of movies similar to "Eight Below"(2006). This version is way more endearing and romantic.  That is what we know as Ice Hotels. Indeed, such a term is extremely accurate, as the ice and snow remain the key building materials that ceiling, walls, beds and other kinds of furniture are made from, inside the buildings of this type.
The history of buildings made from ice started in 1740, Saint Petersburg, Russia.  At that time the luxury ice palace was made under the order of Empress Anna.  Back then, inside the palace you could find everything as in any other traditional apartment, starting with precious interior ornaments and finishing with crockery. Just do not forget – everything is made from ice only! Later, in 1990 two friends named Granlund and Yngve Bergqvist in one of the Swedish towns opened the Art gallery inside the Igloo. During the years, it had been expanding and was eventually converted into the Ice Hotel.
Every year, Canadian, Swedish, Finnish and, of course, Norwegian buildings made from ice attract tourists from all over the world. Norwegians tend to start the season of Ice Hotels between December and January. The hotels persist until the end of April and after that point they literally start melting.  Obviously, the next winter they have to be rebuilt again. Besides of harsh weather conditions, such as low daily temperature and biting wind, they could hardly persist even four months. Hence in this case Norwegian frost is undoubtedly beneficial.
There is no point in being afraid of freezing while staying in Ice hotel. The owners that offer such accommodation provide with warm sleeping-bags and even thick fur. In addition to this, the temperature inside the dwelling is much higher than outside. For instance, while the temperature outside is as low as 15 degrees below zero, the temperature inside the dwelling reaches approximately zero degrees. If by any chance you still feel cold, you can visit the bar or restaurant located in Ice Hotel. Here you will be warmed up with hot drinks, while ones suffering from hunger will have an opportunity to try specialty dishes served in crockery made from ice. Such entertainment and way more is guaranteed in two Ice Hotels in Norway.
The hotel located in Kirkenes. This place made for recreation is set up close to the borders with Russia. Since 2006 onwards, the apartment made from ice, that gives an opportunity to enjoy the "convenient" frost is built in this area annually. In spite of this, there is so-called heated restaurant of Lawo located nearby. The frosty door of the hotel is opened around 20th of December.
The hotel called Sorrisniva Igloo in Alta. This hotel located in Northern Norway also has to be rebuilt once every year. It greets the tourists with ice beds and moderate frost. The temperature inside the dwelling sometimes falls down until 7 degrees below zero. That is why it is recommended to bring cold-weather clothing with you. Keep in mind that you will be provided with warm sleeping-bags and reindeer leather by hosts. Besides that, in the traditional and warm part of the hotel, there is a sauna; so there place to warm up is guaranteed.
More information in both Norwegian and English can be found using the following links: http://www.sorrisniva.no/  and http://kirkenessnowhotel.com/nor/. Have you already been here or considering it as your next destination?  Do not hesitate and share your thoughts with us!